One device, infinite combinations
The Lesielle S skin care device is your all-in-one skin care savior. The first device to let you produce fresh skin care products on demand, Lesielle S is a simple and minimalist solution to your skin's evolving needs. Take control of your skin care with a device that's as easy to use as it is effective. Discover and create the combination your skin's been asking for, and adapt it any time.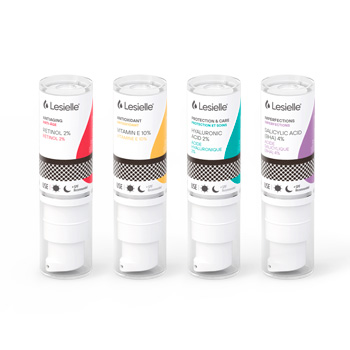 Load up to four actives
Create your own combination of the exact, scientifically-approved actives you need to achieve your skin care goals.
Insert your moisturizing base
Create your own combination of the exact, scientifically-approved actives you need to achieve your skin care goals.
Your personalized cream is ready
Your base provides just the right level of hydration for your skin, customized for sun protection, texture and ingredients. 
Skin care that evolves with
Expert tips to get more from your skin care device
As your skin evolves, the actives you need change. With our app, you'll get suggestions for changes to your combination in real-time, making it easy to overcome any skin care challenge.
Give it a try & feel the difference

Free shipping and returns on orders over €39.

30 day trial. If you're not fully satisfied, we'll give you a full refund.
Modify or cancel your subscription any time. 
Lesielle S skin care device included with all subscriptions.
Read more
Show less
Reviews (20)
Rated
4.50
on the scale
1
-
5
based on
20
customer reviews
Comodo, sencillo y cumple su función
Un 10 en el diseño, en el baño queda genial. Pero la puerta aun cerrada se abre muy fácilmente y si esta, está abierta aunque sea un poco el dispositivo da error y no funciona.
Buen diseño, aunque el botón es muy sensible
Me gusta el diseño y la verdad que la idea del concepto en general , bases, activos y demás ....es genial . Si tengo una pega, lo único que no me acaba de convencer es el botón que es muy sensible. Alguna vez solo con rozarlo al cambiarlo de sitio o cambiar de los activos, se me ha disparado solo. Por lo demás muy satisfecho.
La maquina es muy bonita , parece un accesorio de baño, aunque la mía es blanca y no sabría decir cual es el material que lo recubre pero cuesta un poco de quitar las manchas.

The skincare system for an ever evolving skin, using recognized active ingredients with scientifically proven efficacy to create treatment tailored to each day's State of Skin.