"One of the most effective skincare actives targeting the signs of ageaing. Niacinamide (Vitamin B3) is highly compatible with sensitive skin,
even with those affected by Rosacea."
Read more
Show less
Reviews (7)
Rated
4.71
on the scale
1
-
5
based on
7
customer reviews
Me gusta mucho como me deja la piel, tengo la piel muy grasa y noto como matifica los brillos además de que es buen anti-edad
Muy recomendable para todos aquellos que tengáis la piel grasa
Antiedad recomendable para pieles grasas
Buscaba un tratamiento anti edad y me decidí por la Niacinamida debido a que tenia un poco de exceso de grasa y porosidad. Voy notando como corrige las arrugas pero además noto ese efecto anti grasa. Contenta con el resultado.
Bases's Guides & Tutorials
Get the most of our bases and your customized skincare system with our professional guides.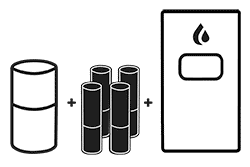 Complete your custom skin care system
Moisturize, nourish, and condition your skin with premium oils and humectants. Choose a base that best matches to your skin type and desired  moisturization level
Customize your treatment and target specific concerns. Lesielle refills contain up to 10x the highest concentrated active ingredients powered by Isolated Formulation ™ and protected by airless technology.
Get personalized skincare at the touch of a button. Place the base and up to 4 actives in your device and make a fresh dose of face cream when you need it!
Not sure which actives to pick? We're here to help.

The skincare system for an ever evolving skin, using recognized active ingredients with scientifically proven efficacy to create treatment tailored to each day's State of Skin.