Glycolic Acid (AHA) 10% |

$11.95
Glycolic Acic exfoliates the skin by dissolving dead skin cells and oils. It helps remove the top layer of skin cells without scrubbing and irritation. Deeply cleanses the pores preventing breakouts. Specially recommended for sensitive or normal to dry skin.
Read more
Show less
Reviews (8)
Rated
4.25
on the scale
1
-
5
based on
8
customer reviews
Me lo recomendó mi doctora para tratar las arrugas ya que según ella el Glycolico de Lesielle tiene una buena concentracion para tratar la regeneración de la piel desde dentro. Iré comentando como me fuciona, Saludos.
Le regalé el dispositivo a mi sobrina con una base y entre los activos le compre este, ya que ponen en la web que sirve para tratar acné y ella tiene muchísimo. Después de tres semanas, lo tiene más reducido y la piel menos irritada.
Bases's Guides & Tutorials
Get the most of our bases and your customized skincare system with our professional guides.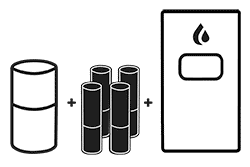 Complete your custom skin care system
Moisturize, nourish, and condition your skin with premium oils and humectants. Choose a base that best matches to your skin type and desired  moisturization level
Customize your treatment and target specific concerns. Lesielle refills contain up to 10x the highest concentrated active ingredients powered by Isolated Formulation ™ and protected by airless technology.
Get personalized skincare at the touch of a button. Place the base and up to 4 actives in your device and make a fresh dose of face cream when you need it!
Not sure which actives to pick? We're here to help.

The skincare system for an ever evolving skin, using recognized active ingredients with scientifically proven efficacy to create treatment tailored to each day's State of Skin.