Antipollution 4.5% |

$12.95
An exclusive combination of enzymes and plant extracts that fight
against the effects of pollution on the skin. Lesielle's Antipollutant is an ideal ingredient ti add to your mix if you live in a large
city or travel to for work.
Read more
Show less
Reviews (8)
Rated
4.75
on the scale
1
-
5
based on
8
customer reviews
Viajo mucho a Barcelona por trabajo y siempre lo llevo conmigo. Encantado con la marca, la maquina es fácil de llevar, la batería dura una barbaridad, los envíos llegan en la fecha indicada. Solo tengo palabras buenas hacia esta marca, gran trabajo chicos.
El producto me parece innovador , pero que tenga un cosmético que te proteja de la contaminación me parece de lo mas completo. Me encanta el producto :)
Notaba mi piel como mas apagada, con falta de brillo y mi médica me recomendó que utilizara un cosmético con antipolución ya que al vivir en Madrid esta afecta a la piel. Me llega mi activo esta semana pero he de decir que me parece algo ingenioso que puedas tener tal capacidad en tus tratamientos, como es prevenir los efectos de la polución
Bases's Guides & Tutorials
Get the most of our bases and your customized skincare system with our professional guides.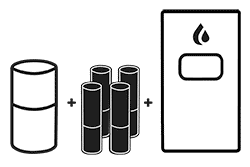 Complete your custom skin care system
Moisturize, nourish, and condition your skin with premium oils and humectants. Choose a base that best matches to your skin type and desired  moisturization level
Customize your treatment and target specific concerns. Lesielle refills contain up to 10x the highest concentrated active ingredients powered by Isolated Formulation ™ and protected by airless technology.
Get personalized skincare at the touch of a button. Place the base and up to 4 actives in your device and make a fresh dose of face cream when you need it!
Not sure which actives to pick? We're here to help.

The skincare system for an ever evolving skin, using recognized active ingredients with scientifically proven efficacy to create treatment tailored to each day's State of Skin.